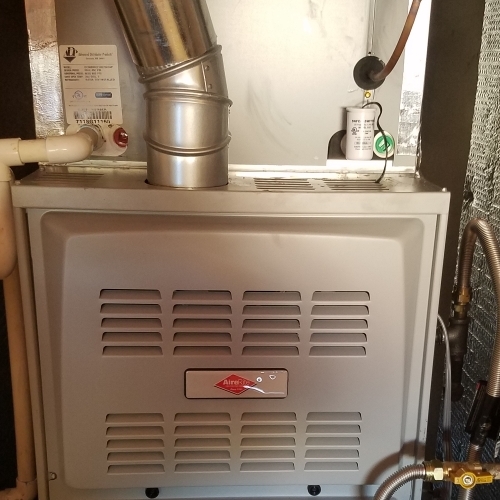 Keep Warm for Less
As a heating company operating in the Inland Empire, we have to be capable of all kinds of heating services. The winters can get surprisingly cold here and people need to keep their homes properly heated in order to stay healthy and comfortable. While you may not think that heater services may be necessary for the brutal summer afternoons, that is actually the perfect time to get your heater checked out. In fact, you should have a professional come and inspect your heater every year to make sure that it is ready for heavy use in the winter months. It is the best way to prepare your home for the cold and to make sure that your heater doesn't break down and cost you hundreds of dollars in repairs. You can call on us here at Aire-Rite Heating & Air Conditioning, Inc. for heating services of all kinds including repair. We service all kinds of heating units including gas furnaces so don't hesitate to reach out to us at (951) 336-1541 as your heating company in Riverside, CA.
We're Who Can Trust
Over the years, we have been called upon to fix or replace all kinds of heating units. From electric heating units to gas furnaces, we have never had to turn down a customer because we didn't know how to do the job professionally. Rest assured, we are a fully licensed and bonded heating company in Riverside, CA. Aside from doing certified work that adheres to building codes and won't void your manufacturer warranties, it means that we are capable of fixing, installing and maintaining any kind of heating system. And if you are a business owner, you are going to want to save our number in your phone as well because we offer fast, efficient and thorough heating services for commercial units and systems as well. When you work with us, you will also find that we offer some of the most competitive prices for commercial and residential heating services as well. Our work is thorough and affordable. There is no heating system that we cannot improve so give us a call at (951) 336-1541 today.
The Benefits of our Heating Services
Choosing us as your heating company in Riverside, CA has many benefits. First of all, we offer affordable heating services. We have many customers across the entire Inland Empire and thanks to our broad customer base, we can pass incredible savings onto our future customers. You can also depend on honest work. A lot of heating contractors will try to sell you on services that you don't actually need. We don't resort to these kinds of tactics. We want to earn your trust and we know that the only way to do that is by consistently providing honest and reliable heating services.
Our Services
You Can Count On Us
Our heating services will extend the lifespan of your unit as well. Whether you have a gas furnace or an electric heating system, our technicians can make it run longer and more reliably than you expected. We also offer heating parts replacement service so even if a heat exchanger, blower or any other part of your heating system gives out, there is no need to replace the whole thing and spend hundreds or even thousands of dollars. Just call us out and we will determine exactly what part or parts need to be replaced and handle the replacement for you. Our heating services are designed to save you money and keep you warm when the temperatures drop. Lastly, we will not drag a project out any longer than it needs to be completed. Again, we don't need to resort to those kinds of tactics. You can count on prompt project completion for jobs large and small. This is the kind of heating company we are and the kinds of benefits you get simply by working with us. The next time you are in need of a reliable and professional heating company in Riverside, CA, call (951) 336-1541 with Aire-Rite Heating & Air Conditioning, Inc..