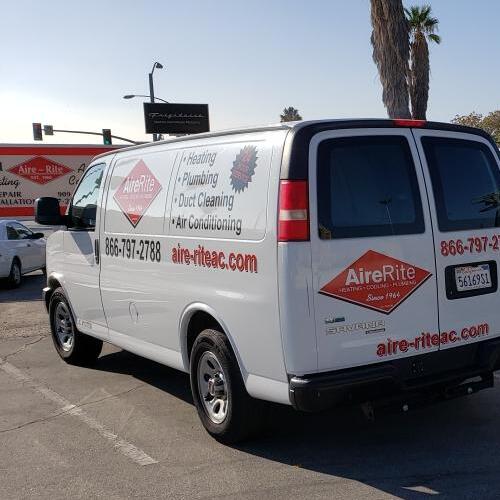 Quality Central Heating Repair
Here at Aire-Rite Heating & Air Conditioning, Inc., we don't mess around when it comes to HVAC services. Least of all central heating repair because we know that you rely on your heating system and need to know that it will work for you every time you need it. You can call on us in the summer to make sure your heater will be ready for the winter months. You can call us in the middle of winter for fast and reliable heater repair as well. No matter when you need us or what you need us for, you can always count on quality. We use only the best replacement parts from the industry's most trusted manufacturers in our repair and replacement service. We are also especially adept at dealing with central heating systems. Many homes in the Inland Empire are outfitted with central heating systems – especially newer homes and commercial buildings. So we have a lot of experience with them, to say the least. We are also the type of HVAC company that stays current with the latest advancements in HVAC. We train our team continually so that they know exactly how to repair modern central heating systems. That is why we are the best choice when you are in need of central heating repair in San Bernadino, Corona, and Riverside, CA. No matter what problem you are experiencing with your central heating system, we will be able to fix it. Give us a call at (951) 336-1541 to find out more or to schedule an estimate.
Put our Expertise to Work for you
There are a lot of components in a central heating system. And unfortunately, any of these components can give out without warning. Heating breakdowns and malfunctions can depend on factors such as how often your heater is run, a record of maintenance and the quality of the installation. But no matter what your situation is, we can take care of it for you.
Fan Heaters – The blower fans in many kinds of heaters are responsible for moving air through or over a heating component (radiator, tubes, etc.) in order to heat the air. We are capable of fixing these fans in any kind of heater you may have.
Piping – Whether you have copper or plastic pipework in your central heating system, we can handle their repairs or replacement.
Expansion Vessels – The job of an expansion vessel in a sealed central heating system is to prevent over-expansion of the pipes or radiators and prevent bursting. They do an important job and we can make sure they keep doing that job.
No matter what part of your central heating system may be on the fritz, we here at Aire-Rite Heating & Air Conditioning, Inc. can repair it for you. Call us at (951) 336-1541 for central heating repair in San Bernadino, Corona, and Riverside, CA.