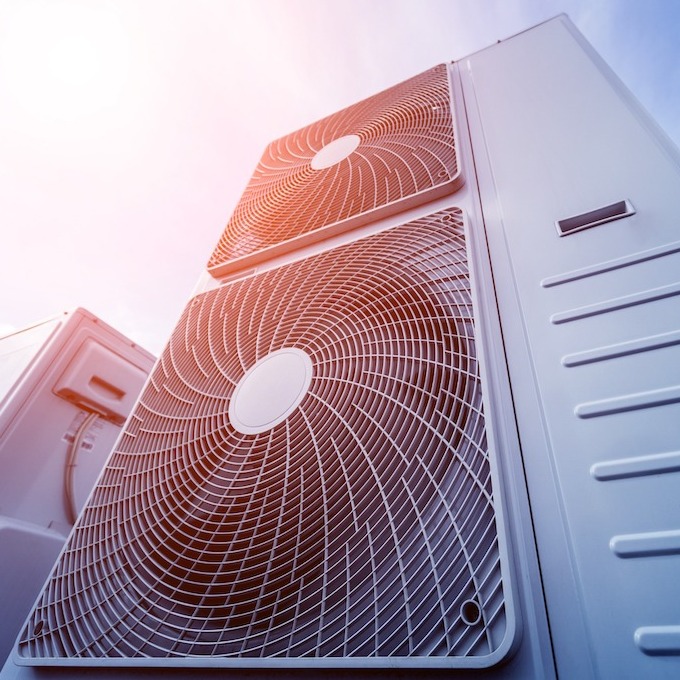 Learn More About Commercial Air Conditioner Features
Just like plumbing, commercial air conditioning is heavy-duty because it typically is cooling a larger area. Commercial air conditioners cool large, open spaces of factories, office buildings, and warehouses. Typically, they are more energy-efficient than a residential air conditioner and have several features that allow the building management to customize the cooling needs. Not only is commercial air conditioning more expensive to install, but commercial air conditioner repairs can be more expensive too.

What Types of Issues Can Commercial Air Conditioners Experience?
The following are the most prevalent causes of commercial air conditioner repairs:
1. Lack of routine maintenance
The best way to eliminate needing commercial air condition repairs is to purchase and follow a preventative maintenance program. With routine maintenance, minor issues are found and addressed before becoming major commercial air conditioner repair problems.
2. Clogged air filters
Clogged filters force the air conditioning system to work harder. This uses more energy and wears the unit out faster. Just like your home air conditioner, it is important to have the air filter changed or cleaned every 30 days, in some cases, twice a month.
3. Refrigerant leaking
Refrigerants are what make the air cool from the air conditioner and it is contained within the coils. When these coils have a leak, the refrigerant isn't able to do its job of cooling the air. When this isn't addressed, it can cause bigger problems.
4. Malfunctioning thermostat
Not all problems arise and need major commercial air conditioner repairs. Sometimes, simply replacing the thermostat is sufficient.
5. Improper air balance
The cooled or heated air coming from the vents moves through a series of ducts and cools or heats each room. When the dampers that help control this air flow are closed, it reduces the airflow in one room and pushes more out in another room.
What are the Indications that Commercial Air Conditioner Repairs are Needed? 
The following are indications that you need to schedule a commercial air conditioner repair service:
Odors or poor IAQ (indoor air quality)
Strange, unfamiliar noises
Inconsistent, uneven cooling or heating airflow
System efficiency declines
Cooling and heating costs increase more than normal
What are the Benefits of Regular Air Conditioner Maintenance? 
There are 5 important benefits to having a commercial air conditioner maintenance contract with a professional commercial HVAC service:
1. Major Commercial Air Conditioner Repair Issues Minimized
By having your commercial air conditioner under a regular preventative maintenance program, you minimize, even eliminate the need for expensive commercial air conditioner repair. The technicians will inspect and address those small issues before they become major problems. 
2. Familiarity with Your System
With regular maintenance of your air conditioning system, you'll usually have the same technicians. This allows them to become familiar with the system which can save time when commercial air conditioner repairs are needed.
3. Reduce Emergency Commercial Air Conditioner Repairs
Regular professional commercial maintenance will prevent those expensive commercial air conditioner repair emergencies. This eases the strain on the budget and minimizes employee and customer discomfort.
4. Reduce Energy Costs
A routine maintenance program on a commercial air conditioner system, it keeps the system running more efficiently which keeps energy expenses in line. 
5. Helps the Environment
With a routine commercial air conditioner maintenance program, your HVAC system will keep running more efficiently which helps the environment by minimizing the number of harmful pollutants being expelled into the atmosphere.
What Should You Expect When You Have Commercial Air Conditioner Repairs Done?
When you do need commercial air conditioner repair service, make sure you hire a local company with experience in commercial air conditioning. Industry experience can make a difference in the outcome because they will either have parts in stock or have connections with reliable suppliers.
Experienced commercial air conditioner repair companies are equipped with the latest in technology. Air conditioning equipment changes every year, and a commercial air conditioning service company should be abreast of those changes.
Ask about their pricing as you call for professional commercial air conditioner repairs. A legitimate company will offer upfront pricing so that you can budget your needs. A professional company will offer 24/7 support and a comprehensive warranty.
When you schedule a commercial air conditioner repair service call, the technician will inquire about what problems you're having. They will then inspect the system, test various components, and advise you what the problem is and the cost of repair.
In Conclusion
A professional commercial air conditioner repair company will make suggestions to having the best air conditioning system for your building. They will consider keeping the comfort level adequate while maintaining the best green solutions. The technician should have your company's best interest in focus on all points for your commercial air conditioner repairs and maintenance that is beneficial financially and time-wise.